Careful installation is necessary to achieve a good-looking product. Carelessness, insufficient help, or lack of experience can result in broken pieces or a less than desirable installation job.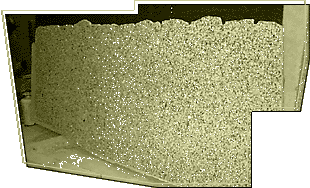 Basically, you have two choices:

1. Hire a professional ' there are people who have experience installing granite counters. If they don't specialize specifically in granite, sometimes a tile installer or kitchen installer can also do the counters. Charges should range in the $8 to $10 per SF range.
2. Do it yourself ' We will attempt to describe the process here, however, please read everything carefully so you can make a good decision as to whether you can tackle this job. We highly recommend installation by a professional. This professional might be found in the yellow pages or other business directory under granite counters, kitchen counters, but even some individuals who do tile installation and carpentry may have the tools and skills to install your counters.
MATERIALS



You will need sufficient labor to help lift and maneuver the pieces into position. Some pieces can be quite heavy (multiply the area by 20 pounds per square foot to get the weight). Not only do you need to carry these pieces, but you need many hands to maneuver them into place. ALWAYS carry pieces vertically – never horizontal.
TOOLS & MATERIALS



You will need the following tools and materials:
An ample supply of good quality clear silicone sealant (This sealant provides the necessary flexible and waterproof adhesion for the granite)
Epoxy Glue
A razor blade scraper
Paper Towels
A level
A 4' metal straight edge.
Some wooden wedges (to level granite until silicone cures)
Alcohol and rags
A belt sander (to sand and level cabinets if necessary)
A jig saw (to cut cabinets if necessary)
Some 2 x 4 pieces (to brace sink until silicone cures)
Help, to carry and maneuver pieces from vertical to horizontal.
A diamond saw may be necessary to adjust joints, fit pieces or cut backsplashes into place.
String (to check for level)
Carpet scraps or pieces of cardboard


PREPARATION



All the cabinets need to be installed. You will need to have on hand at the site any items that will be installed into the counter – sinks, faucets, cooktops, etc.
Check for level – use your 4' straight edge or string to make sure the tops of the cabinets are level. Sand any edges that are too high. Add small wood wedges with silicone in areas too low.
Granite can span 24" and can cantilever 14". Provide wood blocking and support for larger gaps.
Make sure the granite is at room temperature. If it is cold, moisture may condense and the silicone won't stick properly.
CAREFULLY un'crate your granite. Granite will receive its most stress during uncrating and installing, which means if it is going to break at all, it will be during this time. Your crate will be constructed with screws. Unscrew sequentially and remove pieces one at a time. Make sure you have a place to put each piece. ALWAYS carry and store each piece vertically. Have some cardboard and/or carpet straps available to set the pieces down.
PROCEDURE



Install any "locked" pieces first – those with other pieces seamed to them.
Installation can be simple. Make sure that the surfaces supporting the granite are level. Place the piece to make sure it will fit. Remove the piece and apply an ample bead of silicone sealant on all contact edges. Place the piece.
Continue with the next adjoining piece. Be sure to put a bead of silicone on the joint between pieces.
If you run into fit problems – perhaps your template was not quite accurate, you may have to adjust your seam with a new cut with a diamond saw. This is a rather major procedure and should be left to the experts.
Sometimes a fit problem can be remedied by cutting a small channel into the drywall to fit the granite. Drywall will be thicker at seams and in the corners and can result in an uneven fit unless the drywall has a channel to fit the granite.
Make sure you have plenty of hands available to maneuver the granite from a vertical carry into a horizontal position. Without sufficient support, you could crack a piece.
A large kitchen may require some adjustments to all pieces after installation. Make sure you are still able to move pieces before the silicone sets.
Some seams without sufficient support or in a high stress area should be joined with epoxy instead of silicone. You may have to temporarily support or brace pieces until the epoxy or silicone is set.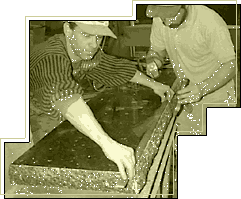 Undermount Sinks are best installed to the granite counter before the granite is installed. First, lay the granite piece in place and make sure it fits correctly and that the sink has all necessary clearances to fit. You may have to cut some wood of the cabinets away for sufficient clearance. Check also at this time for clearances for faucets and other plumbing. Again, you may have to trim some wood.
Make sure the granite has been at room temperature for at least 4 hours and is dry. If not, the sealant may not adhere properly.
Lay the granite piece upside down on the floor. Clean the area of contact thoroughly with alcohol and allow to dry thoroughly. (at least 2 hours).
Attach the sink with ample silicone. Heavier sinks (enameled cast iron) should have small holes drilled (diamond drill in impact drill) on a FULLY supported granite piece to a depth of about ½". Fill with a lead shield and screw sink tabs into shields. Use the silicone sealant and the tabs. Allow silicone to fully cure (usually about 24 hours)
Backsplashes are installed by placing a bead of silicone along the top edge to adhere to the wall and a bead along the bottom for sealing and adhering to the counter. You may discover that your drywall is not a straight surface – this is common since drywall compound is built up in joints and at corners. You may have to cut into the drywall with your utility knife to situate the backsplash with a minimum of gaps. You can test this ahead of hand with your 4' straight edge or your string.
Some additional information about...



Breakage: Although granite is one of the most durable and strongest materials you can use for countertops, you can break a piece if you subject it to excessive bending stresses. This means that all pieces need to be well supported during maneuvering and installation, especially long pieces and pieces with cutouts. ALWAYS carry pieces vertically. Make sure you have enough hands to support the piece during maneuvering. Granite receives its greatest stress during transportation and installation.
Adjustments: Occasionally, your templates could be in error and the granite needs to be adjusted or cut. After cutting, you may have to polish the cut, which also requires special tools and equipment. Granite can only be cut with special diamond blade saws and drills. Unless you have the equipment and experience to accomplish this task, it would be better to hire this done professionally.